custom electrical installation in a 100-year-old Glencoe home where no electrical existed previously in the wall
custom electrical design and installation of 14 can lights into 4 zones in a Wilmette home where no electrical existed previously in ceiling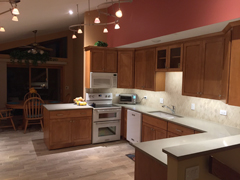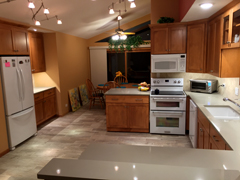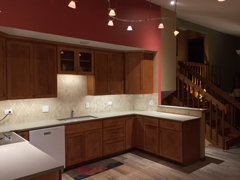 Full kitchen electrical remodel in Vernon Hills, including re-routing of 24 circuits in order to open the ceiling, 9 new kitchen circuits, heated flooring, low-voltage undercabinet lights, 4 countertop spotlights
custom electrical installation in a Winnetka home where no electrical existed previously in the walls or ceiling
custom installation of track lights where no electrical box existed previously in the ceiling
Tom talks at a local elementary school about home wiring and electricity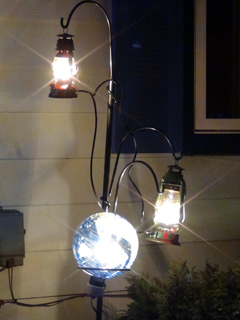 custom design and creation of electrical outdoor lamps that were originally of kerosene type
Tom is listed on
Communities served:
Deerfield
Glencoe
Glenview
Hawthorn Woods
Highland Park
Kenilworth
Lake Bluff
Long Grove
Northbrook
Northfield
Riverwoods
Vernon Hills
Wheeling
Wilmette
Winnetka
Winthrop Harbor
Zion
Wiring and Electrician Services
Featuring Tom Krol

as a professional, licensed residential electrician


5 of 5 stars rating on Yelp

"A" rating on Angie's List


Clients note Tom's honest approach to wiring and trustworthiness in their homes. He does not suggest unnecessary replacements or do unnecessary work. Clients describe his work as not only honest, but "well thought-out" when it comes to installation.
Tom also holds degrees in Music and Science from DePaul University and carries $2,000,000 contractor liability insurance and full coverage automobile insurance. He passed the IL written exam and physical skills test to earn an IL electrician's license. He likes to stay in frequent contact with the electrical inspector at the Village of Libertyville.
Personalized service. You will always get Tom. No subcontractors.
All electrical work is guaranteed to be compliant with National Electric Code and is always guaranteed 10 years.
A Dependable Electrician is a company that accepts personal checks, cash, VISA, Mastercard, Discover, and American Express.
A Dependable Electrician has received an "A" rating on Angie's List and a 5-star rating on Yelp.com. Each one of these reviews is legitimate. All were paying clients.
Vernon Hills Electrical Inspector to Tom's client after both rough and final inspections of a kitchen remodel
"You have a very good electrician!"
Libertyville Electrical Inspector to Tom Krol
"I'm glad that you place great importance on quality and integrity in your work. A compliment like that, especially from an inspector, is a great testament to your work!"
J. S., Northbrook, IL
(as appeared on YELP, June, 2017, 5 stars)
"Tom is great. Very knowledgeable and was able to figure out a great solution for a wiring issue I was having. Additionally, he has installed digital timers and removed and replaced a ceiling fan for me. Both jobs were done completely perfectly. While working, he even took the time to update me with text messages which was greatly appreciated."
J. F., Naperville, IL
(as appeared on YELP, December, 2012, 5 stars)
"Top notch work! He made sure my wiring was up to code and beyond. He explained everything he did throughout the process. He treated my house like his own. I have an electrician for life."
C. H., Wilmette, IL
"Tom's business is aptly named. He is extremely dependable and knowledgeable, and has helped us with many smaller projects that larger electrical firms sometimes don't want to handle. I would recommend him highly to anyone needing a top-notch electrician."
M. M., Wilmette, IL
(as appears on Angie's List, A rating)
"We have used Tom for all of our electrical needs for the past few years and we wouldn't think of going anywhere else. Tom's work is extremely clean. He is upfront about costs and makes sure to discuss with us any extra cost before the work is done. We have never had any problems with any of the electrical work he has done and most importantly... we trust Tom fully, so we don't have to stay home while a job is being done."
C. H., Wilmette, IL
"Tom Krol is certainly a dependable electrician. He is true to his word and his work. I am particularly impressed with his careful approach to not-so-easy jobs, and his stressing preventive measures to minimize future problems. It's one thing to react to a situation that's a problem already, but it's another to think beyond the problem to ensure lasting results."
R. B., Wilmette, IL
"We have used Tom Krol for many electrical jobs, both at our home and at our business in Evanston, and we have always been delighted with the totally professional results and reasonable price. Mr. Krol is always courteous, timely and accurate, and we will continue to use his services in the future."
R. C., Wheeling, IL
(as appears on Angie's List, A rating)
"Tom was such a pleasure to have completed the work that I required. He was punctual, polite, and professional. He cleaned up after himself and I will definitely use his services anytime I require an electrician. Thank you Tom. Great work!!"
R. H., Chicago, IL
(as appeared on YELP from November, 2012, 5 stars)
"Tom came my home right on time and was super courteous. He diagnosed and solved my issue within 30 minutes. He was very knowledgable and professional, while at the same time, super friendly. I am very glad I found him and I will definitely call him again."
P. D., Deerfield, IL
(as appeared on YELP from January, 2016, 5 stars)
"Tom's great! He consulted with us on the best choices for our new fixtures and did a top-notch job installing them. We're delighted with the work. Thanks, Tom!"
M. M., Lake Forest, IL
(as appeared on YELP from September, 2012, 5 stars)
"The first time he came, he fixed the switch in one of our bathrooms since the light would not work. I called about a week later to have him replace switches and GFI's. I asked if he could do the work on a certain day that week and he made the appointment for the day I requested. He is neat, courteous, and friendly. I highly recommend him."
R. L., Rogers Park, IL
"Thank you for getting the job done! It passed re-inspection (first inspection was before Tom was brought in). I greatly appreciate your troubleshooting abilities. And your promptly getting the kinks worked out while being responsive to the time deadlines that we were dealing with. Your assistance and efforts are greatly appreciated."
M. M., Highland Park, IL
"He showed up on time, was courteous and professional. Did the work quickly and efficiently. I will definitely be calling on him again."
R. F., Chicago, IL
(as appeared on YELP from November, 2012, 5 stars)
"Tom is truly a man of his word. Dependable, reliable, courteous, clean & prompt. I have used his services multiple times and would recommend him highly."
(as appears on YELP from June, 2012)
"Great Work! It's hard to find a reliable, dependable and safe handyman/electrician. Tom was on time and stayed after to help hang my blinds. I hired him back to install my flat screen TV and would recommend him highly."
D. O., Evanston, IL
"Thanks Tom! We are very happy with the work and can relax knowing that you did a great job, in the right way and in a safe manner. Really appreciate that! We'll always keep you in mind for any electrical work and are happy to serve as a reference anytime."
L. C., Lake Forest, IL
(as appears on Angie's List, A rating)
"We wanted to consult an electrician for electrical work in our kitchen and bathroom remodel due to our present contractors not fulfilling their obligations. We consulted Tom regarding some issues. Tom was prompt to return phone calls and answer questions and concerns we had. While we are bound by contract to use another electrician during our kitchen and bathroom remodel, I was impressed with Tom. We kept his contact information around for when we need an electrician. I look forward to working with him in the future."
J. N., Wilmette, IL
(as appeared on YELP from December, 2014, 5 stars)
"I called A Dependable Electrician to help me get my 100-year-old house up to code. He did a great job and everything looks great. I could not recommend Tom any higher!"
M. A., Evanston, IL
"Meeting Tom was like someone giving me a gift. He has done things for me in my house that other electricians have said could not be done. He is totally reliable, extremely courteous and as good as an electrician as one could hope to have assist them with what needs to be done. What more could one ask for?"
E. G., Northbrook, IL
"I was looking for an electrician and I came across Tom's ad which said how not only was he a licensed electrician but also a DePaul music & sound grad and guitarist. I hired him as an electrician for remodel work where I offered him more work for additional upgrades after I saw how quickly and cleanly he worked. I ended up having him do everything on my to-do list. Plus he also gave me many better ideas for rewiring and relocation of switches and outlets. After seeing his proficiency with being an electrician, I hired him as a sound engineer for our video production company and will continue to use him and recommend him to people."
J. H., Chicago, IL
"Tom does excellent work as an electrician. Very well planned. Very well executed. His efficient way of working solves problems quickly and permanently - and he treats clients fairly and with kindness. I recommend him enthusiastically to anyone needing quality electrical work done with thoughtful care!"
D. O., Evanston, IL
"We are very pleased with the work you completed and especially your professionalism and polite manners. These things matter to us and we'll be sure to pass your name to any friends and neighbors in need of a quality, professional electrician."
A. S., Chicago, IL
(as appears on Angie's List, A rating)
"Tom came over and listened to my concerns. He diagnosed the issues needing addressing. He explained things very clearly. He finished the work in a timely matter and was very fair on pricing. I will use Tom again."
M. W., Coldwell Banker
"My clients are very happy with your handyman work. You do excellent work!"
D. K., Coldwell Banker
"Tom is totally neat, cleans up nicely and very meticulous, as well as being on time."
FACEBOOK: A Dependable Electrician
Electrical wiring is as safe as the knowledge and detail of the
electrician
Detail-oriented
Liability insurance $2,000,000 / $4,000,000
Refined people skills from years of corporate project management
Knowledgeable of MAC and PC platforms
Bachelor of Science, DePaul University
Bachelor of Music, DePaul University
Solves Rubik's cube
Speaks fluent Spanish
Eagle Scout
Met in the studio: Frank Sinatra, James Earl Jones, Brian Wilson (The Beach Boys), Ramsey Lewis, Oprah Winfrey, Jeff Baxter (The Doobie Brothers) and The Dells.
Met & recorded Marion Brooks (NBC), Zoriada Sambolin (NBC), Chicago Mayor Rahm Emmanuel, WBBM's Felecia Middlebrooks, His Excellency Paul Kagame - President of Rwanda, Chicago Bears Matt Forte, Chicago Cubs Kris Bryant, Fox Sports Troy Aikman, Victoria's Secret supermodel Karlie Kross, Tiffani Thiessen (90210, Saved by the Bell, Cooking Channel), S Epatha Merkerson (Law & Order, Chicago Med, major movies), Bill Rancic (first season winner on "The Apprentice"), Giuliana Rancic (E! news), Monica Pedersen (HGTV), WNUA's Denise Jordan Walker, Dr./Fr. Michael Pfleger, Dominic Capone (great nephew of Al Capone), Abbott CEO Miles White, Marcelo Balboa (US Soccer Hall of Fame), Elimar Ugueto (Univision, ESPN), Steve Downes of WDRV "The Drive," children's book authors Ridley Pearson and Tom Watson, Top Chef Stephanie Izard, Chef Raghavan Iyer, Ty Pennington, Grammy Award winner Kurt Elling, and Archbishop Burke of The Vatican.
Played guitar on the HALO 2 soundtrack to complement guitar tracks by Steve Vai, as well as guitars on countless national commercials and for Atlantic Records. Performed classical guitar live on WFMT in 2010.